What Is ECU Remapping?
ECU remapping is when the settings of the engine control unit (ECU) are changed to improve the performance of the vehicle. New software is used to overwrite the existing settings of the ECU so that it can be reprogrammed. This allows for better management of fuel injection, airflow, sensors, and other factors that affect the performance of the vehicle.
The customised software is plugged into your tuck's serial port (OBD port) to overwrite the existing settings. It makes it much easier to tune a vehicle and tweak the settings for the best performance results.
ECU remapping is best left to professionals. A qualified professional will ensure you get what you want from remapping, whereas failing to choose the right service could mean that you risk damage to your engine. A professional can get it done quickly, and you should notice an improvement in the performance of your car right away.
The Benefits of ECU Remapping
ECU remapping has multiple excellent benefits. It doesn't take very long to carry out, and it can immediately help you to get better performance from your truck.
When you choose ECU remapping, you can get more power from your vehicle. You also get more torque from adjusting the settings on your vehicle's ECU. If you're looking for a way to make your car more powerful, ECU remapping can help you. It can get your truck set up for better towing and touring with increased power and performance. How much more power you can get from your vehicle depends on the type of engine. Typically, a turbo-diesel engine can get more power from an ECU remapping compared to petrol.
Additionally, you can improve the fuel economy of your vehicle, which will help you to save money and make your car more eco-friendly too. Increased fuel economy is one of the top things that people want from their cars, and remapping can make it possible without having to trade in your vehicle for a newer model. With an increased focus on how green cars are, remapping helps you to be more eco-conscious so you can do your part for the environment. Saving money is another excellent benefit resulting from the need to use less fuel. By changing your driving habits to make the most of the remapping, you can enjoy better fuel economy.
ECU remapping is carried out safely, and it can be done in as little as 30 minutes too. It allows your vehicle to perform at its full potential, adjusting it so that you get more from it. If you feel like your vehicle is underperforming, ECU remapping can solve the issue.
When ECU remapping is carried out with an EVC controller, it creates a sharp and responsive throttle with no lag. Improved throttle response will increase the overall handling and performance of your car so you can enjoy the experience of driving it more. Your engine can become more responsive from remapping, which can allow you to overtake more easily and can make it possible to cut down on the number of gear changes that you need to make. You'll be able to handle situations where more torque is required without the need to drop down to lower gears. This can have the benefit of increasing fuel economy for your vehicle.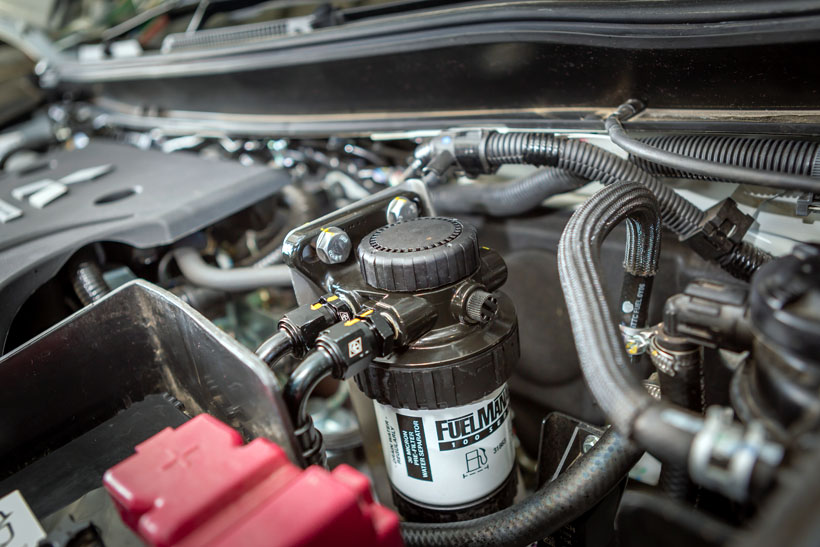 ECU remapping is carried out in-store at Core Diesel. We provide you with a before and after dyno sheet to show you how the remapping has improved your vehicle's performance. Our purpose-built soundproof Dyno cell features the latest technology Mainline Chassis Dyno. It's capable of up to 850KW (1130hp) and 1700nm (1254 Ftlb) of torque. Using our state-of-the-art equipment, we are able to ensure the ECU remapping delivers the best performance for your car, as well as safety and reliability. A before and after Dyno sheet clearly shows you your power and torque gains so that you can see how remapping benefits you.
Don't worry about your car's warranty if you want to have ECU remapping carried out. The process won't affect your warranty, so you can still rely on it when you need to. However, it is a good idea to check your warranty before having ECU remapping performed to ensure it won't be invalidated.
Everything is customised to each individual customer. We ensure that ECU remapping is planned to help you get the results that you desire from your car's performance. We can tune your vehicle to improve performance for a specific purpose, such as towing or touring, or to improve a certain aspect of its performance, such as fuel economy.
ECU Remapping By Core Diesel
We're experts in all things diesel at Core Diesel. When you want your diesel vehicle to be remapped, we can help you out. Our professional service is delivered by our experienced team using the very best equipment. We only use the very best equipment and technology, and we always tailor our ECU remapping services to the needs of the individual customer. Take a look at our range of other services for diesel vehicles, including repairs and diesel carbon cleaning. We're a one-stop-shop for all of your diesel needs in the Fraser Coast area,
Request a callback to enquire about our ECU remapping and Dyno tuning services or contact us by phone or email to get in touch with a member of our team.